... for the implementation of sound, long-term tax policies that promote the global competitiveness of the U.S. high technology industry.
The Silicon Valley Tax Directors Group is composed of representatives from leading high-technology companies with corporate offices predominantly located in the area between San Francisco and San Jose, California (widely known as the "Silicon Valley"). The group was formed in 1981.
Visit the SVTDG Web site at www.svtdg.org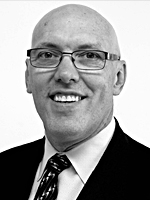 Larry O. Martin
B.S. Accounting, Brigham Young University; M.Acc Taxation, Brigham Young University
Vice President, Global Head of Tax & Statutory Reporting
Veritas Technologies
2625 Augustine Drive
Santa Clara, California 94054
Contact
650.933.1415 OFFICE
Professional Organizations
AICPA, Oregon Society of CPAs, TEI
Background
Public accounting (EY). Industries include manufacturing, energy and technology/media. Privately held, publicly traded and regulated businesses. Current responsibilities include global tax.
Company Profile
Veritas provides information management services and solutions including backup and recovery, data management, eDiscovery.