... for the implementation of sound, long-term tax policies that promote the global competitiveness of the U.S. high technology industry.
The Silicon Valley Tax Directors Group is composed of representatives from leading high-technology companies with corporate offices predominantly located in the area between San Francisco and San Jose, California (widely known as the "Silicon Valley"). The group was formed in 1981.
Visit the SVTDG Web site at www.svtdg.org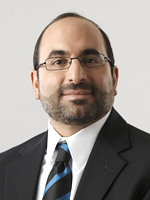 Ed Jajeh
B.A. and B.S., University of California at Davis; J.D., Catholic University; LL.M., Georgetown University
Vice President, Tax, Treasury and Workplace
Yelp Inc.
140 Montgomery Street
San Francisco, California 94105
Professional Organizations
TEI; California Bar
Background
Public Accounting, in-house tax counsel and tax management. Currently responsible for global tax and insurance matters.