... for the implementation of sound, long-term tax policies that promote the global competitiveness of the U.S. high technology industry.
The Silicon Valley Tax Directors Group is composed of representatives from leading high-technology companies with corporate offices predominantly located in the area between San Francisco and San Jose, California (widely known as the "Silicon Valley"). The group was formed in 1981.
Visit the SVTDG Web site at www.svtdg.org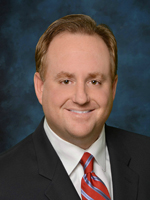 Jeremy K. Cox
B.A. Accounting, Texas Tech University; J.D., Southern Methodist University School of Law
Senior Vice President, Tax
Hewlett Packard Enterprise
6280 America Center Drive
San Jose, California 95002
Contact
888.342.2156 PHONE
Professional Organizations
State Bar of Texas
Background
Mr. Cox has global responsibility for all tax matters of HPE and its subsidiaries, including income and transaction tax compliance, financial reporting, transfer pricing, planning, tax policy and audit/controversy.
Company Profile
HPE is a global, edge-to-cloud Platform-as-a-Service company built to transform your business. How? By helping you connect, protect, analyze, and act on all your data and applications wherever they live, from edge to cloud, so you can turn insights into outcomes at the speed required to thrive in today's complex world.